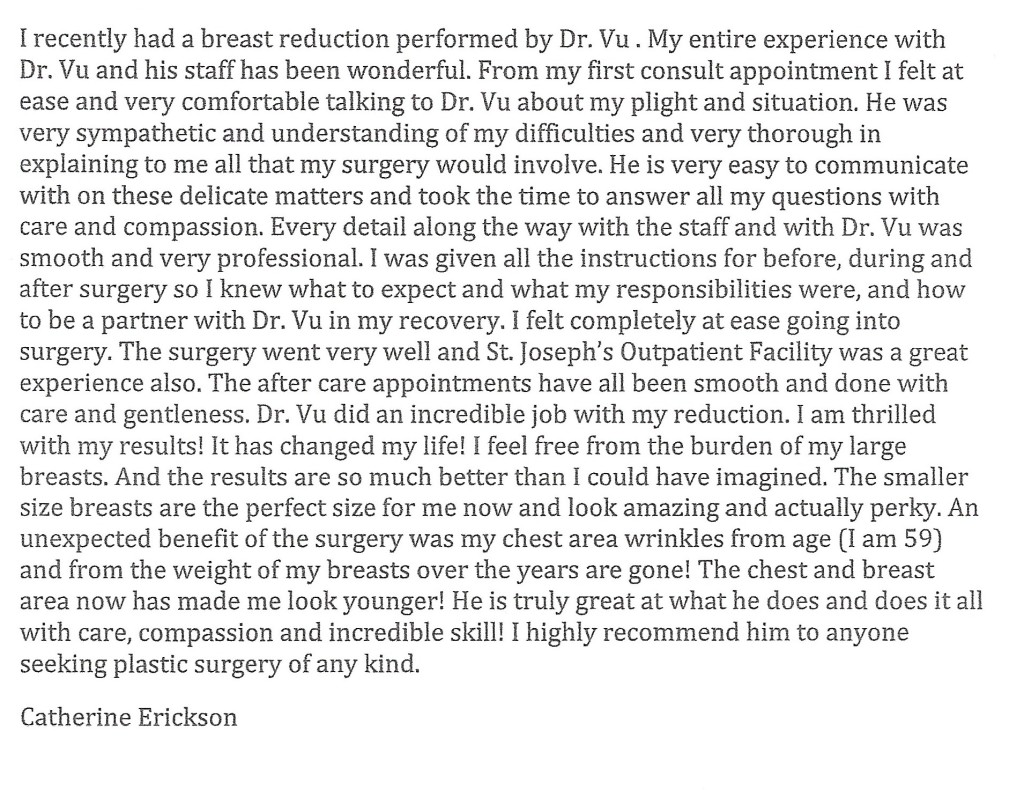 ---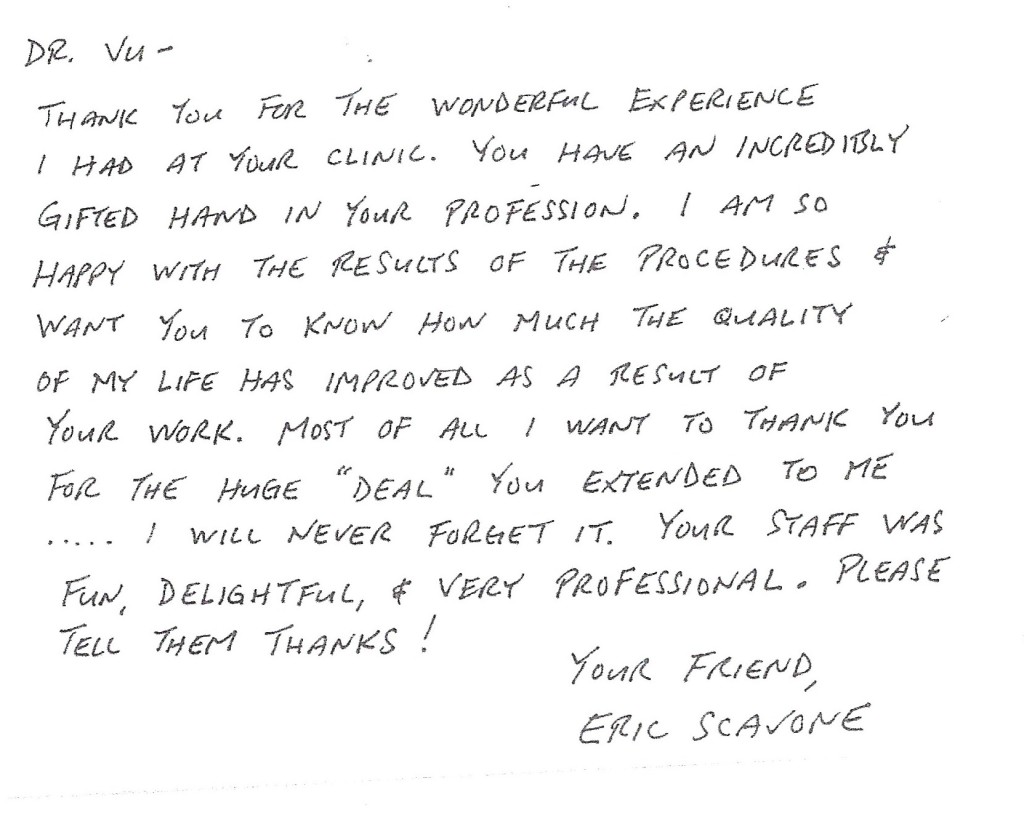 ---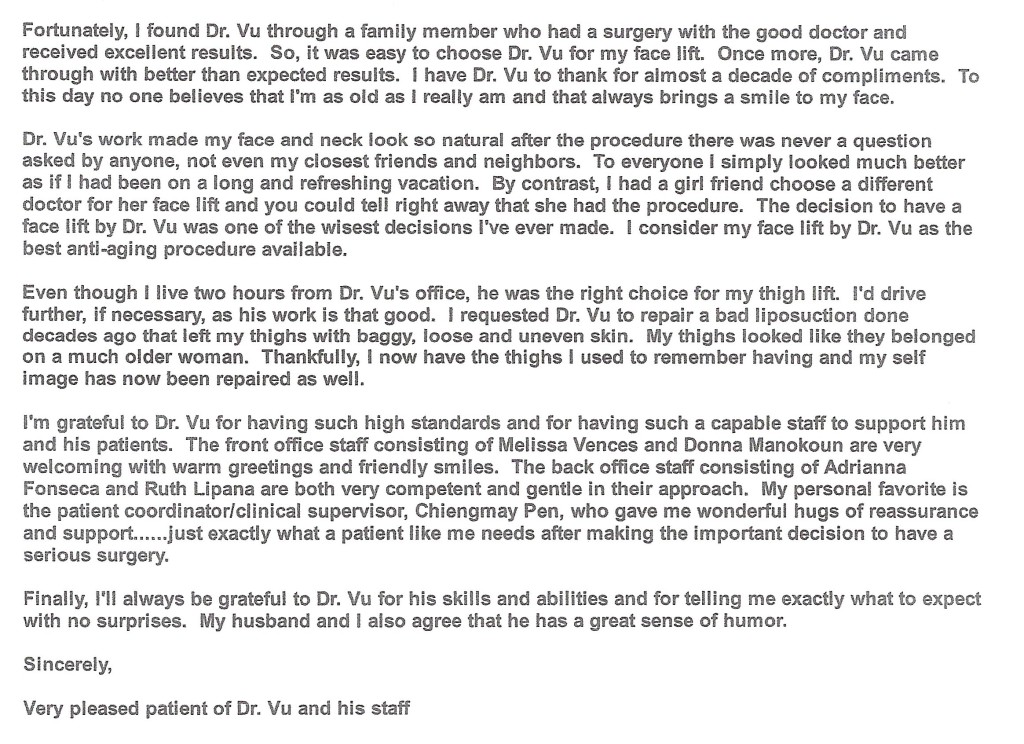 ---

---

---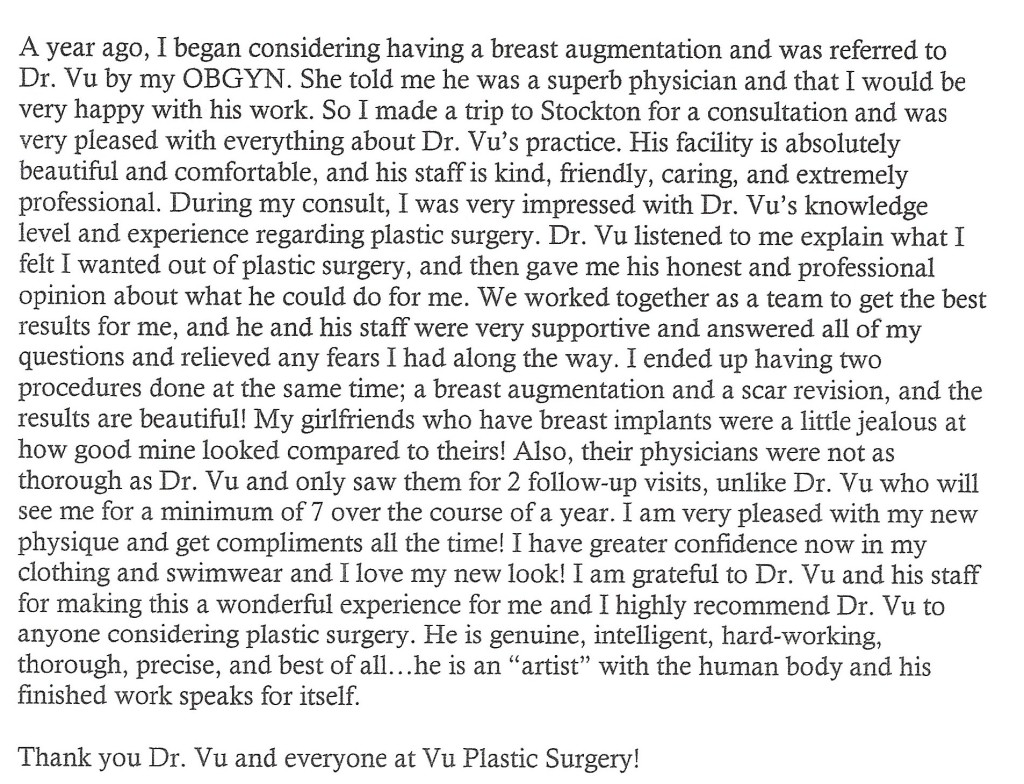 ---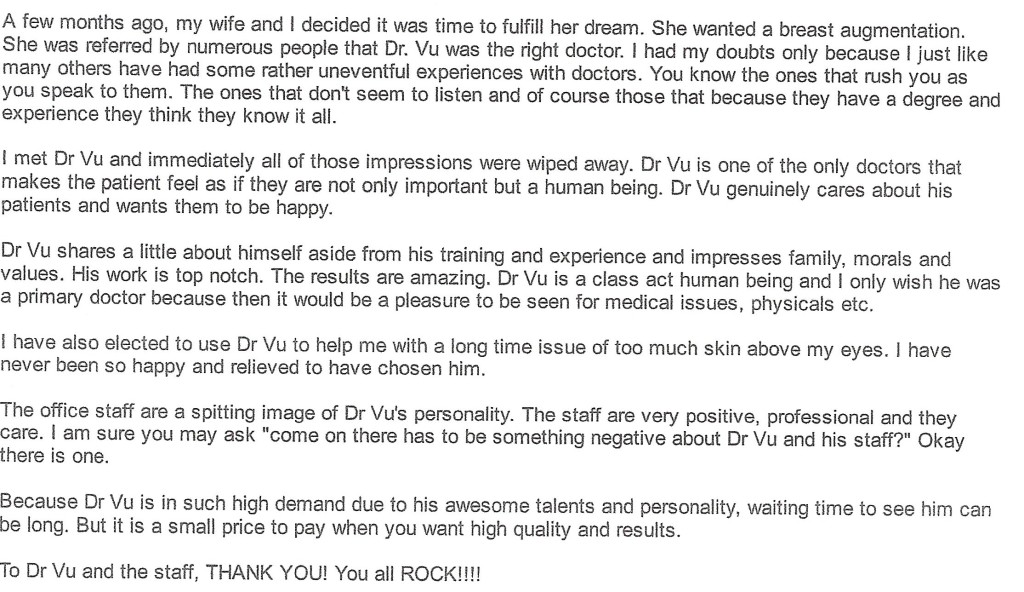 ---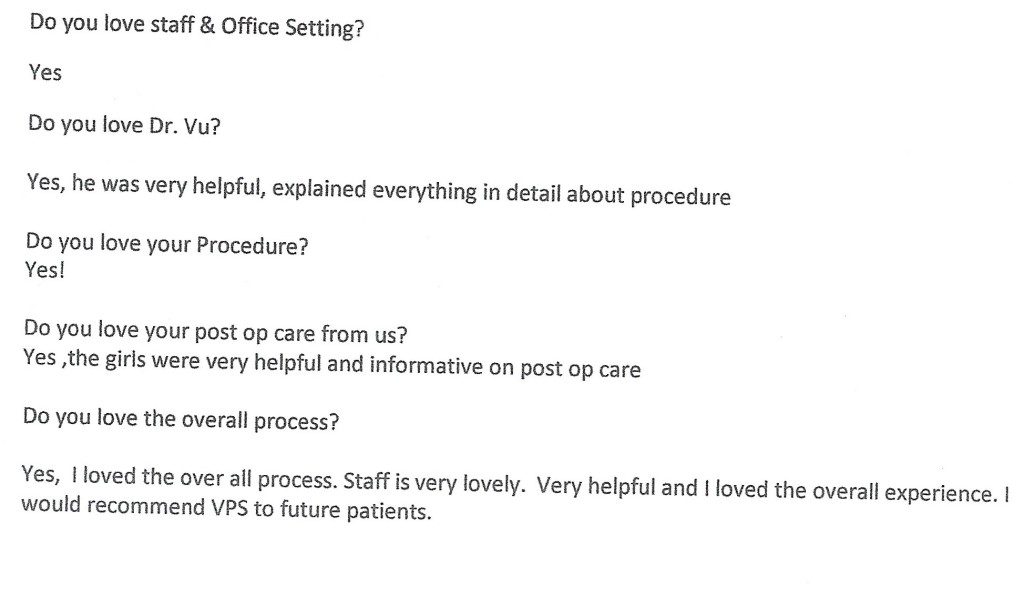 ---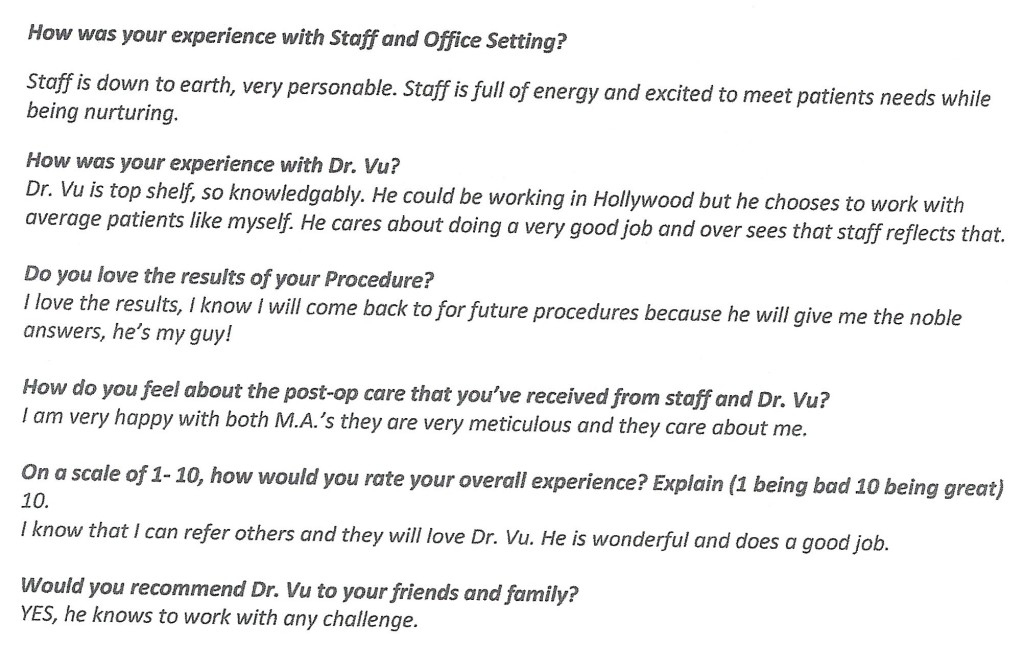 ---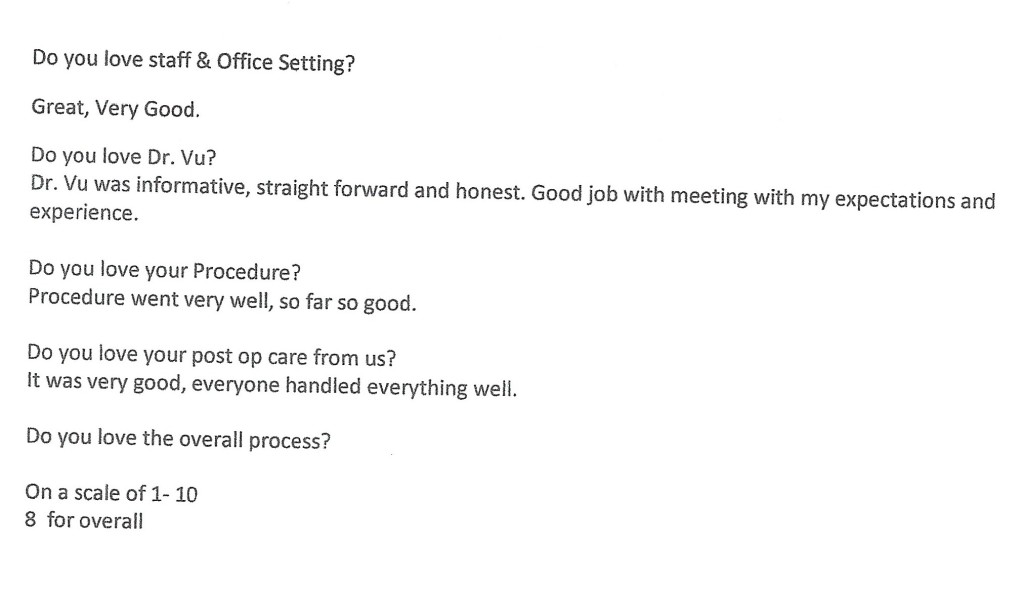 ---

---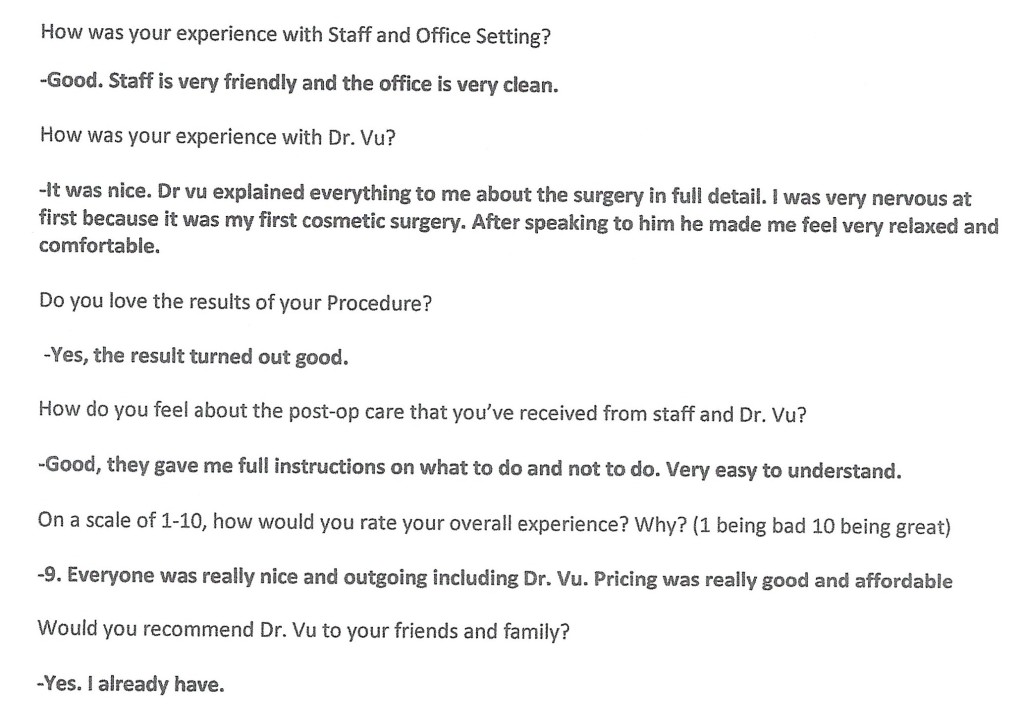 ---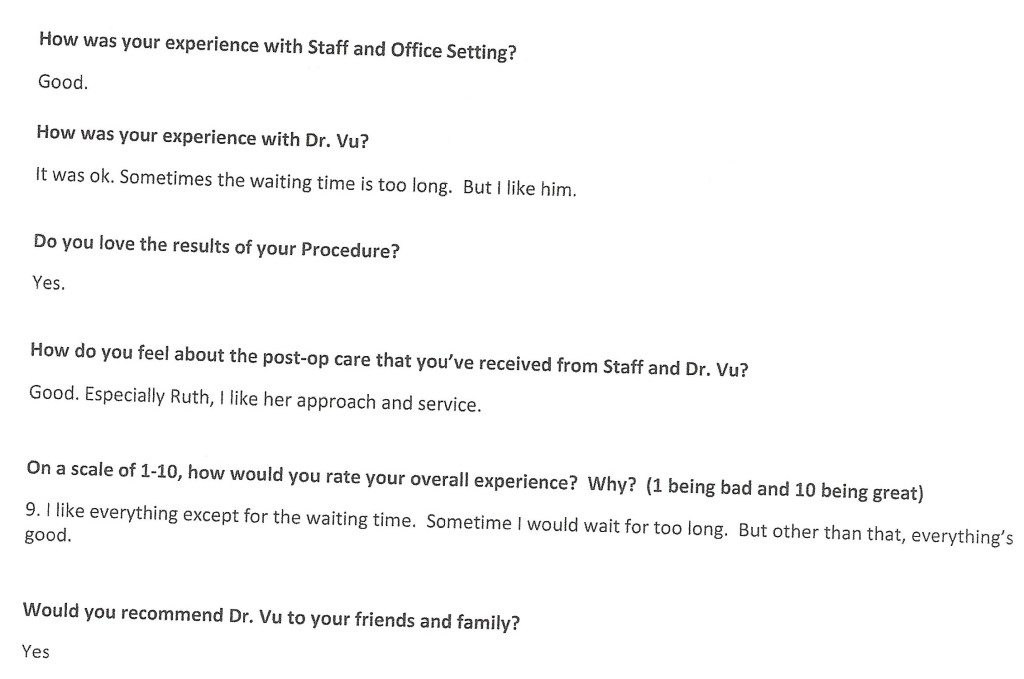 ---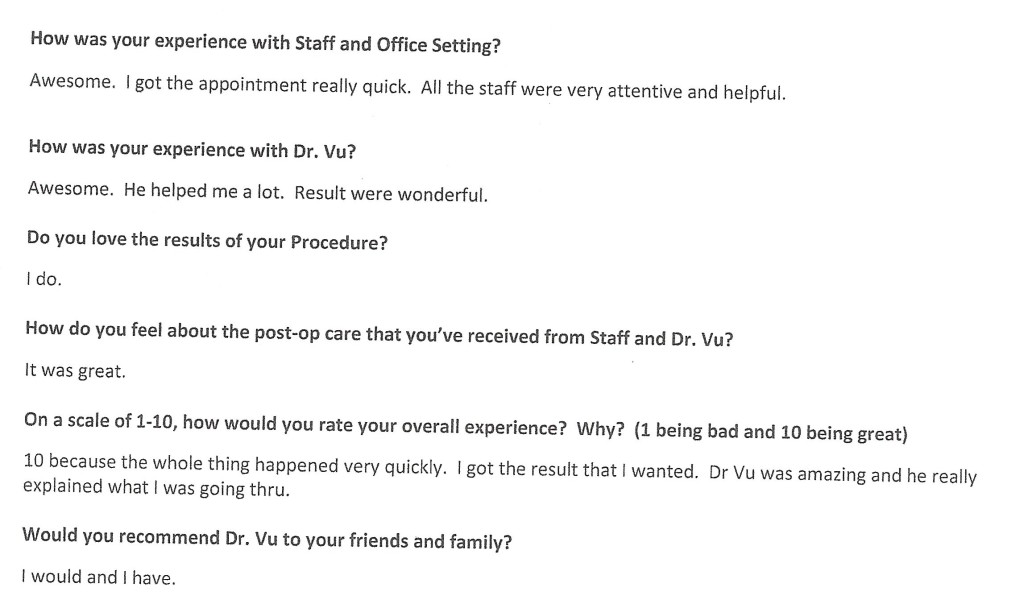 ---

---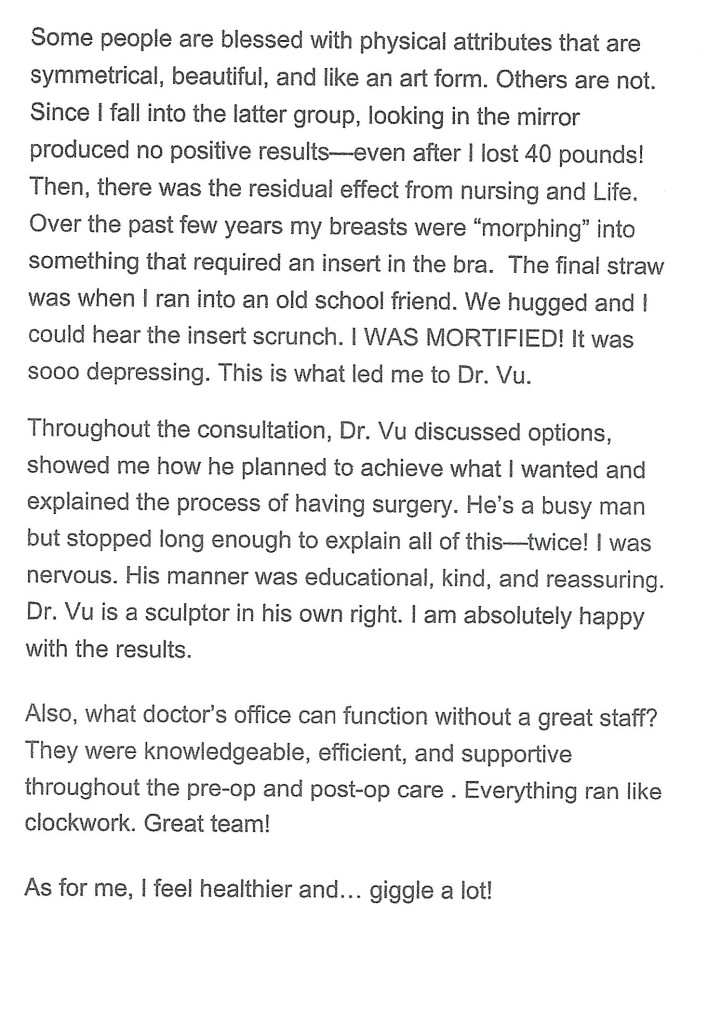 ---

---

---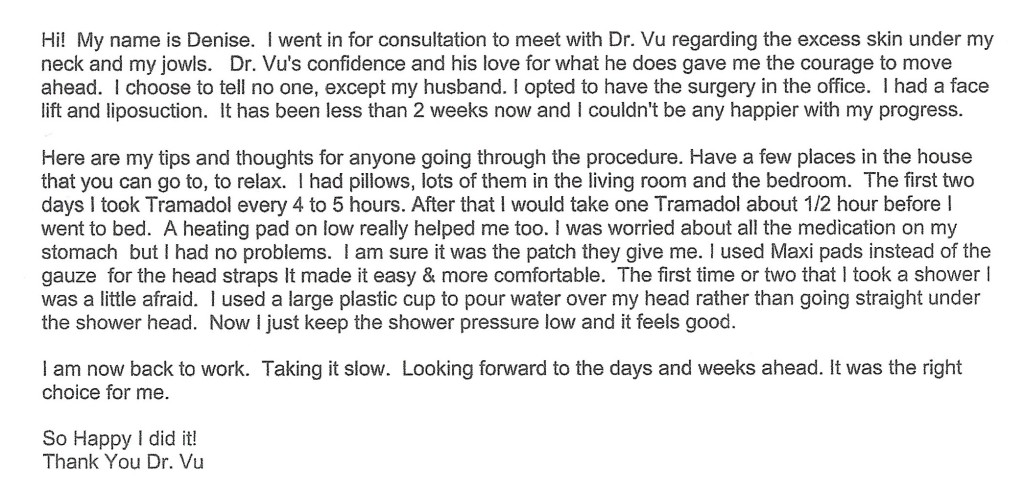 ---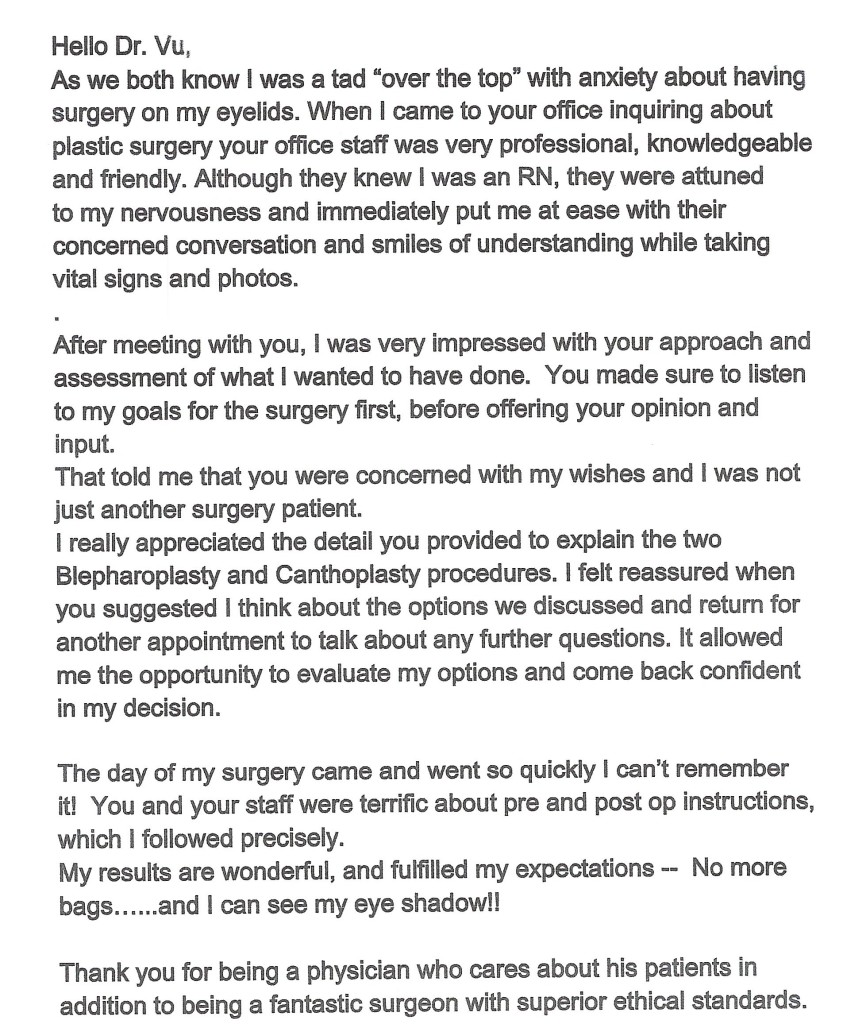 ---
"I had bypass surgery 7 years ago and doing great. Thanks to Dr. Vu looking even better! Over the past 5 years Dr. Vu has performed several surgeries to remove excess skin left from losing over 170 pounds. Dr. Vu is the best in his field, making dreams come true at an affordable price and great results. Dr. Vu walked me through each surgery, his dedication to his patients and to their feelings are fantastic. His staff is just as great as he is with always asking what we can do for you. Like Dr. Vu they are professional and personal to all your needs day or night. Dr. Vu, thanks for being the best surgeon and having the support team around you which puts the "icing on the cake." – O.M.
---
"Dr. Vu and his staff are awesome! Very friendly, professional people. They are really good at putting you at ease and making things comfortable. I have gone in for laser vein treatments and very very please with my results. I give him high recommendations."
---
"My life has totally changed since my facelift and eyelid surgery. Before my facelift when I look in the mirror in the morning, I see a sad and tired face. Now when I wake up and look in the mirror, I see a happy more youthful face. Thank you, Dr. Vu, for changing my life!"
"Staff is very pleasant and efficient. Always greets me with a smile when they see me. It makes me feel very important when they address me by name. Even when they're extremely busy, they'll get back to me immediately the first chance they get. I've had several procedures with Dr. Vu. He is very informative and thorough and takes the time to go over any of my concerns."
---
"My experience with the staff is always great. They make you feel comfortable. I look forward to seeing them when I come in. Dr. Vu is always professional and knowledgable. He is thorough and makes sure you follow through on all orders. He is honest and wants you to be pleased with your results. I love the results of my procedure, I got a lot of compliments already. My post op care has been exceptional. Both staff and Dr. Vu make sure that you're healing well, and that all questions are welcomed. Overall everything is great. His prices are reasonable and he will help you out when you become a repeat client. I recommend Dr. Vu to family and friends."
---
"To the girls and Dr. Vu – just a thank you to the girls for my many, many phone calls and questions. Your team is awesome, very professional! Thanks to Dr. Vu for your perfectionism and professionalism."
---
"I let Dr. Vu perform my surgery abdominoplasty (tummy tuck), and the results were real good. Dr. gave me the confidence I needed from the first date, he told me the truth, explaining the risks that any surgery brings, gave me has to know how the results would be and what could be the complications of my procedure, explaining step by step, this gave me the certainty that I was in good hands. Doctor and his team were on the lookout to cover all necessary areas to prevent infection, as comfortable as possible. The results were favorable (excelllent) and although I am happy with this, Doctor Vu made a correction on my scar without charging me anything (for free) "Wow." I truly recommend Dr. Vu and his Team, they are professional and friendly." – H.S.
---
"My experience with staff and office was good. My visit with Dr. Vu was good, brief, and let me satisfied to move forward. I am healing well from my procedure now, and the post-op care was good. Dr. Vu is very nice, he doesn't do this for the money, he wants his patients to look good. I recommend him to friends and family."
---
"Every office visit was always a good experience, the staff is always helpful and pleasant. My experience with Dr. Vu has always been very good, always giving good common sense advice and not pushy. I love my results and I get a lot of compliments. I was given a lot of information on how and what to do to heal after my procedure. I give Dr. Vu a 10 and all his staff a 10. Dr. Vu always has them to talk to you and answer all your questions. I absolutely recommend him."
---
"The staff are great, wonderful and kind people. My experience with Dr. Vu was awesome, nice and straight forward. I love the results of my procedure and I feel great about the post-op care I received from Dr. Vu and staff. I give my overall experience a 10 and I recommend him to friends and family."
---
"I'm counting the weeks when I can start jogging, lifting hand weights and gardening again! My sister who has breast reduction years ago saw my new breasts and couldn't believe it. She said they were "beautiful" like a young girl's. She couldn't believe "no scars."
---
"Thank you for the beautiful work you did on my breast augmentation. You are an artist, a perfectionist and very professional. You have integrity and take pride in all of your work. Because of this, I knew I was in good hands, and that the outcome would be beautiful. My breasts are very soft, and natural looking. I am very pleased. The front and back office staff are exceptional ladies. They are all friendly and make me feel very comfortable and at ease when I am there. Thank you,
Theresa."
---
5.0 star rating 8/20/2015
"I'm giving the Dr. 5-stars because he is charismatic, just cocky enough, and damn good at what he does! His bedside manner was perfect for me as he has a way of making you feel confident in his hands. He also erred on the side of caution and didn't try to "up-sale" just to make more money. He was very knowledgeable and took the time to answer ALL of my questions. I did years of research before finally taking the plunge. You will not regret it!"
"I would HIGHLY recommend his services and skills to anyone looking to have work done."
— Katie D, Stockton CA
---
"This is my third time I get my Botox treatment with Dr. Vu. I use to go to another local plastic surgeon until a friend recommended him to me. Love the Staff specially May., She is so sweet and she is always receiving me with a big smiley like she is so happy to see me. I always comment to her that she looks like she just been hired (always happy, very nice with customers and unlike other clinics that makes you feel like you are annoying them).
Dr. Vu is such a cordial, personable and attentive person. He listen to me and makes me feel comfortable with what I want to achieve regarding my looks and my face.
I do recommend him 110%"
Patti Marsh
---
5.0 star rating 10/19/2007
"What can I say about Dr. Vu? He has got quite the charismatic personality…. and good looking to boot! The office is beautiful and the the entire staff is charming and gracious. You're wondering what I had done? Just perfecting perfection."
— Emily S. Stockton, CA
---
"I have been seeing Dr. Vu for three years for two eye procedures. Throughout this time he and his staff have been absolutely amazing! They care about their patient; not dollars. That was evident when I went in requesting a simple, but costly procedure … and Dr. Vu said he would not do it because I did not need to have it done. The team there are professional, the office is relaxing and they listen. I am a Dr. Vu patient for life, and have recommended my family and friends to him."
— Silvea
---